The Sterling Dental Clinic
Vasant Vihar, Delhi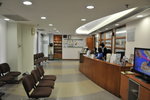 About The Sterling Dental Clinic
Our mission is to provide our patients with the finest possible dental care, with the highest degree of technical excellence, friendliness, and respect. Our patients are the focus of what we do. We recognize that every patient is an individual, with his or her own priorities and expectations. We will strive to meet those expectations by providing a service that will be unsurpassed.
We are committed to developing a staff of highly motivated individuals. We will at all times be honest, caring and supportive of each other. We will learn from each other and pursue opportunities for continuing education. We will constantly seek ways to improve this office for our patients and ourselves.
Only by setting high standards, and offering the finest in dental care, can we hope to motivate our patients to choose excellence and to enjoy the long-term benefits of that decision. Dr. Tarun Giroti and staff welcome to Sterling Dental Clinic – arguably the most advanced dental experience in India. We unite exceptional clinical success rate and superior technologies with age-old norms of preventive dentistry to provide premier dental care. Our entire team of professionals looks forward to providing you with extraordinary dental experience in a friendly and warm environment. The satisfaction of healthy and beautiful teeth and a feeling of well-being in an attractive, relaxed atmosphere these are our objectives.We, at Sterling, have imported the latest equipment and we all are trained to handle all the cutting edge procedures in the world of dentistry. We are on the Panel of The American Embassy, French Embassy, and International S.O.S. We have been serving people from the world food program (UN), diplomats from various embassies and are also recommended by the Delhi network. We offer all aspects of cosmetic dentistry ranging from high-quality crown and bridge work to gold crowns, porcelain laminates, inlays and tooth colored fillings, and one-hour in-office teeth whitening procedure. The latest is the full mouth rehabilitation with fixed dental implants.You could also turn to us for orthodontic treatment with transparent braces. Maxillofacial surgery/ impaction/ extraction. Advanced tissue regeneration procedures. Full, partial & flexible dentures. Flap surgery. Root canal treatment. Scaling & polishing of teeth. All of this guaranteed in a sterile & hygienic environment. Orthodontics, implants, cosmetic dentistry, oral surgery, root canal therapy and more.
Clinic Address & Location
The Sterling Dental Clinic
16-A, Palam Marg, Vasant Vihar, Delhi