GANPATI DENTAL CLINIC(shalimar bagh)
Shalimar Bagh North West Delhi, Delhi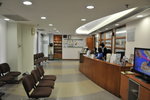 About GANPATI DENTAL CLINIC(shalimar bagh)
Clinic Address & Location
GANPATI DENTAL CLINIC(shalimar bagh)
Ganpati Dental Clinic BH-480, East Shalimar Bagh, Delhi 110088, Shalimar Bagh North West Delhi, Delhi
My News Feed
FREE*FREE*FREE*
On this beginning of the  New Year  Ganpati Dental clinic brings you a FREE Oro-Dental check up and 50% off on cleaning + Polishing of teeth on 6 January 2020 to 8 January 2020.
& Lots more to help you with dental health .
So why wait?
Have a fun filled, prosperous and Healthy New Year.