Chopra Dental Clinic
Rohini Sector 5, Delhi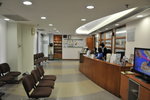 About Chopra Dental Clinic
At CHOPRA DENTAL CLINIC, we are a team of experienced doctors committed to provide best dental care to the populace to prolong their oral health and smile.
We strictly maintain quality, safety, infection control standards & ethical standards for delivery of dental surgical care, diagnosis and treatment planning.
We are honoured and happy to serve our patients with latest that modern dentistry has to offer.
At our clinic, expert dental care is provided with warm personal touch in a comfortable, relaxed setting.
Please Call or e-mail Chopra Dental Clinic today to schedule your appointment.
We look forward to serving you for years to come!

CHOPRA DENTAL CLINIC was established in year 2001 in the historical city of Delhi (India), in one of the vast localities of Rohini.
Clinic Address & Location
A1 /97 SECTOR 5 ROHINI DELHI, NEAR VISHRAM CHOWNK, Rohini Sector 5, Delhi