Akshar Dental Clinic
Killa Pardi, Valsad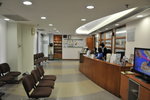 About Akshar Dental Clinic
Akshar Dental Clinic is a Dental clinic in Killa Pardi, Valsad. The clinic is visited by dentists like Dr. Tapan R. Desai. The timings of Akshar Dental Clinic are: Mon to Sun: 9:00 AM-8:00 PM. Some of the services provided by the clinic are: Dental Ceramics, Periodontal Treatment, Digital smile design, Oral Surgery and Full Mouth Rehab. Click on map to find directions to reach Akshar Dental Clinic.

When you visit our clinic, your smile is our top priority. Our entire team is dedicated to providing you with the personalized, gentle care that you deserve. Here are some of the services and procedures we offer:

Tooth Colored Fillings (no mercury)
Crowns and Veneers
Implants
Non-Surgical Gum Treatment
Root Canal
Tooth Whitening
Smile Makeover Cosmetic Dentistry
Dentures
Advance Instruments

You can get phone numbers and call doctors of Akshar Dental Clinic on Kivihealth.com.

Clinic Address & Location
1st Floor, Abhinav Park A, Near Market Yard, NH 8, Killa Pardi, Valsad