Orion Orthodontic And Dental Care Centre
Gk1, Delhi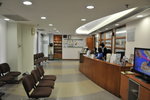 About Orion Orthodontic And Dental Care Centre
Orion Orthodontic and Dental Care Centre is a multi-specialty "dental clinic in Greater Kailash-1", a prime locality in the South zone of New Delhi. The clinic is housed within "Sukhda Hospital", which has been providing quality healthcare since 1984 and has senior & experienced doctors on the panel.
The dentist in Orion (Greater Kailash 1) offers a one-stop solution to all oral & dental health problems for our patients. We have a team of dental specialist, which beliefs in giving you a comprehensive overview and use various digital aids as well as models to explain the procedures before advocating what is best for you. At our dental office, we provide you with professional, gentle and affordable quality dental treatment using advanced techniques and materials in a safe, comfortable environment. Our goal is to help you feel and look your best through quality dental care. We follow a strict sterilization protocol and have the latest equipment at our disposal to provide the best treatment results.
Our team consists of a core of 3 specialists trained at the best dental institutes in India. Currently, we are also involved with the training of postgraduates at dental colleges and are therefore constantly upgrading our skills as dental specialists.
We maintain an outstanding full-service operation in all levels of dentistry to ensure you the best possible care and look forward to seeing you, your family and friends at our practice soon.
Clinic Address & Location
Orion Orthodontic And Dental Care Centre
Sukhda Hospital, Pamposh Enclave,Near R Block DDA Market, Greater Kailash 1,, Gk1, Delhi