Nanda Dental Clinic
Defence Colony, Delhi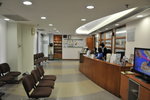 About Nanda Dental Clinic
Nanda Dental Clinic is a state of the art practice that offers comprehensive dental care with an emphasis on Cosmetic Dentistry, Orthodontics (Braces) and Dental Implants.
We were awarded the prestigious title of being the BEST NEW DENTAL PRACTICE IN INDIA at the National Excellence in Dentistry Awards 2014.
Having treated patients from 23 countries, we are a leading choice among expats living in the city and also visiting dental tourists.
We combine years of professional experience together with the latest technology and treatment techniques. Whatever the scope of your treatment, whether you want a new smile or care of your existing smile, you can expect the very best in care and service conducted in the most relaxing and comfortable surroundings.
Clinic Address & Location
B-53, Defence Colony, Delhi