Dr. Bhutani Dental Clinic
New Delhi, Delhi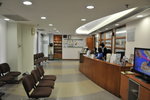 About Dr. Bhutani Dental Clinic
Dr. Bhutani Dental Clinic are leading dental care centers situated in Rajouri Garden and Pitampura, New Delhi offering world class dental services with the best corporate setup of its kind in the country. Bhutani Dental Clinic is the only clinic in India to be listed with the Leading Dental Clinics of the World and provides you with a comprehensive dental solution which is both pain free and esthetic.
At Dr. Bhutani Dental Clinic, we understand the kind of stress that the very thought of dental treatment causes to a patient. Thus, we strive in our endeavor to provide you with a relaxed atmosphere at our centre combined with a luxurious setting, hospitality and state of the art dental equipment.
Our goal from a patient perspective has been accomplished by is interior with a shred of evidence that this place is a clinic. And When you become a patient at this clinic you will feel like at home alone. A nice sized waiting room make your wait a lot more pleasant and take your thoughts away from all things unpleasant.
We have lots of instrumental, inspirational, and soft Background music that can provide a pleasant and relaxing atmosphere for patients who are sometimes tense when they arrive. A lighter color of the clinic is easier to the eyes and calms the mind when looked upon. Lighting plays an important part of calming a patient. Soft pin lights, spotlights and the hidden fluorescent lighting creates a cozy, relaxing and modern atmosphere. Our interior design ensures your experience with us is comfortable and a positive one.
Clinic Address & Location
Dr. Bhutani Dental Clinic
B-7 Rajouri Garden, (Opp Metro Piller 381 Blue Line), Raja Garden Chowk, Near Rajouri Garden Metro Station, New Delhi, Delhi