Prajapati Multispeciality Dental Clinic & Implant Centre
Zanda Chowk, Vapi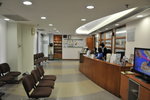 About Prajapati Multispeciality Dental Clinic & Implant Centre
Clinic Address & Location
Prajapati Multispeciality Dental Clinic & Implant Centre
S-206, Maitri Towers, Besides Bus Stand, , Zanda Chowk, Vapi
My News Feed
What's the difference between a pediatric dentist and a regular dentist?

A pediatric dentist has at least three additional years of training beyond dental school. The additional training focuses on management and treatment of a child's developing teeth, child behavior, physical growth and development, and the special needs of children's dentistry. Although either type of dentist is capable of addressing your child's oral health care needs, a pediatric dentist, his or her staff, and even the office dècor are all geared to care for children and to put them at ease. If your child has special needs, care from a pediatric dentist should be considered. Ask your dentist or your child's physician what he or she recommends for your child.
/commerce/products/1191479330907009/
/commerce/products/1128182443946633/
/story.php?story_fbid=10156220378181162&id=137204936161
Review & Ratings
Fascinating exp ..I was having terrible pain before but Drs.effort and hardwork made me smile again without pain...A big thank u ...from the bottom of my heart..He also adjusted time acc to my convenience..Hats off.commendable work..