Goel's Multispeciality Dental Clinic & Implant Centre (NABH Accredited)
Shahdara Delhi, Delhi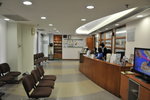 About Goel's Multispeciality Dental Clinic & Implant Centre (NABH Accredited)
Goel's Multispeciality Dental Clinic & Implant Center, an NABH Accreditated (a recognition given by the government for maintaining Quality Procedures in the healthcare facilities) and ISO: 9001:2008 certified dental centre, located in prime area of northeast Delhi. The center is one of the best state-of-art clinics, spread over an area of more than 1500 sq. feet, centrally air conditioned and well furnished. It has six chambers equipped with ultra modern automated dental chairs. The center boasts of having sophisticated auxiliary equipments like digital x-ray, intra-oral cameras, OPG, high-class sterilization autoclaves and formalin chambers.
We ensure quality dental care by full time consultants having extensive clinical experience, in Prosthodontics, Pedodontics, Oral Surgery, Endodontics, Periodontics, etc. who are capable of providing highly result-oriented dental services. The services rendered by consultants are calibrated against the professional and economical aspects in-line with the framework conditions set by the authorities.
We are empanelled by C.G.H.S, D.G.E.H.S, BSES (Yamuna Power Ltd.), BSES (Rajdhani Power Ltd.), MCD, DVB (RETIREE), DDA, DTL, DJB, IPGCL/PPCL and B.E.L. and have been rendering our services to them for many years.
We have been recognized as a strict observer of complete ethical practices and quality service providers.
Clinic Address & Location
Goel's Multispeciality Dental Clinic & Implant Centre (NABH Accredited)
7A/460, Durga Puri Ext , Loni Road,, Shahdara Delhi, Delhi