Dr. Preet's Dental And Orthodontic Clinic
Paschim Vihar, Delhi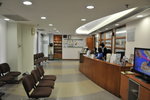 About Dr. Preet's Dental And Orthodontic Clinic
Dr. Preet Dental & Orthodontic Clinic is a renowned dental clinic providing multidisciplinary services in dental treatments. Center aims at providing different specialties of dentistry under one roof. This dental clinic is specially designed to meet patients demands and to provide them satisfactory services. The dental clinic is also equipped with two state-of-the-art dental chairs. We are well equipped to carry out routine dental investigations and dental health check up. The clinic is designed to render high quality dental services well within the common man's reach.
Apart from the routine dental treatment, we have comprehensive dental treatment, ranging from cosmetic dentistry, endodontics, orthodontics dental implants, periodontics, oral and maxillofacial ceramic inlay and prosthodontics treatment and all invasive as well as non invasive painless and needle less dental treatment using lasers. The clinic has well managed infrastructure which consists of synergistic man-machine relationship to provide the best to our patients.
We work according to the latest developments in technology. Each method and material are choosen for every individual patient. Our integrated dental laboratory is specially adapted for you as we believe a radiant smile can open doors, remove barriers, make you feel confident and lead you to success.
Clinic Address & Location
Dr. Preet's Dental And Orthodontic Clinic
A-3/264, First Floor, Paschim vihar, A 3 Block, Paschim Vihar, Delhi